At the end of 2022, a Bluestone Marine Warranty Surveyor sailed on board a specialised vessel to a North European Offshore Wind Farm in order to witness the installation of a 'bellmouth clamp' to reinforce a OSS' J-tubes (Offshore Substation) that had sustained surface damages during the cable pull-in phase.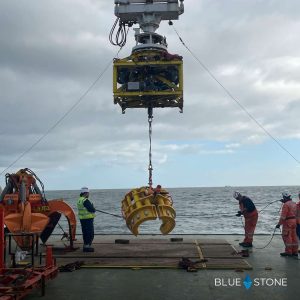 As Marine Warranty Surveyor , the 500mt-checklist on approach to the Offshore Substation along with all relevant rigging was witnessed, inspected and cross-checked against the relevant registers. The weather limitations for the operation were well defined in the method statement.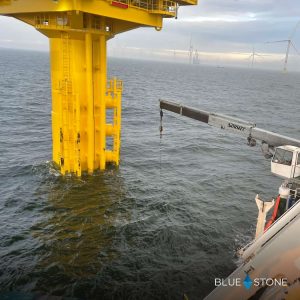 The operation itself was delayed a number of times to wait for the ideal weather window due to its delicate nature. Once a suitable weather window arrived along with a favourable forecast the COA (Certificate of Approval) was issued, allowing the ROV (Remotely Operated Vehicle) and clamp to be deployed overboard to commence operations.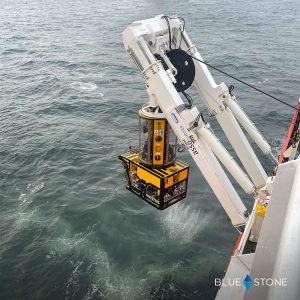 The bellmouth clamp itself was designed to increase the structural stability at the point where the cable enters the bellmouth, providing 360 degree coverage, protection and reinforcement of the bellmouth opening once fully engaged. It was designed in such a way that, once lowered into the desired position by the vessel's crane, it could be engaged in place with the ROV's torquing tool. The gradual torquing and closing of the clamp would also assist it in closing precisely around the desired location and in the correct orientation. Once engaged and fully torqued the ROV could then engage the locking nut's to ensure the clamp remains in position for its desired design lifespan, ensuring the bellmouth remains structurally stable and the export cable safe from any future potential undesired movement or degradation.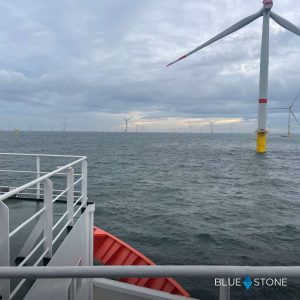 The clamp was subsequently surveyed with a full general visual inspection by the ROV and found to be installed correctly, at this point the operation was deemed complete and the Marine Warranty Surveyor e-mobilisation was carried out in a German port.