Bluestone's project manager assisted the 1C-ICE class conversion of a luxury cruise vessel both during pre-dry dock preparation and steel prefabrication as well as during the dry-docking period and steelwork installation, including step-by-step handover to registered Classification Society.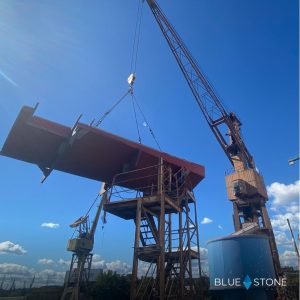 Overall project scope of work:
New AFT skeg (ducktail) installation
New ICE belt shell doubler installation
New ICE belt internal structure reinforcement on overall vessel length
New ICE Class compliant bulbous bow installation
New afterdecks installation on decks 5 and 6 (5m and 7m)
Extensive steelwork replacement due to corrosion (over 900 sqm of tank top, various bulkhead inserts, several DB tanks and two large GW tanks over 70% rebuilt, several shell inserts)
Propulsion plant upgrade to TIER 3 and MMEE/AAEE complete overhauling and working hours reset
Shaft lines and propellers maintenance
Engine room ventilation maintenance
Bridge navigation system upgrading to integrate new ice sonar, echo sounder, speed log
VSAT TVRO antennas upgrading
Complete hull recoating to ICE class standard
Mooring equipment overhauling
Windows, balconies and portholes upgrading to ICE class standard
Tender platform overhauling
New equipment installation/replacement: SCR (Selective catalytic reduction) , purifier units, boilers, waste treatment system, sewage treatment system, RO units, swimming pool/Jacuzzi machinery room, laundry equipment.
Crew/guest and public areas refurbishment/refreshment
New video surveillance installation
Project consisted in two main phases: pre dry-dock preparation and dry-dock implementation.
During the preparation phase, most of the existing equipment and piping were dismantled in order to access for work tank top steel renewal and ICE belt reinforcement installation. Since overall project time span was over 4 months extra attention was paid to safely remove and organise removed materials and equipment in such a manner required to be easily identified and reinstated. During the preparation phase the shipyard worked on the prefabrication of over 200 mt of steel and Bluestone Group monitored the entire phase by closely monitoring quality, quantity and timing.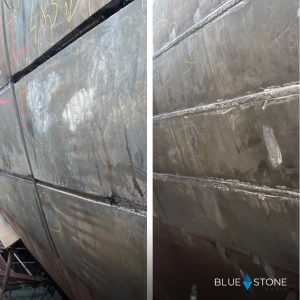 Already during the preparation phase, several challenges were faced by the team, soon to realise the most important aspect was the coordination between all stakeholders. As engineering was still in progress and prefabrication began to fall behind schedule, decision-making was on every day's menu. In addition, budget changes and the ongoing pandemic caused some changes in the project philosophy during the prefabrication phase, which finally appeared to be reaching high-quality standards.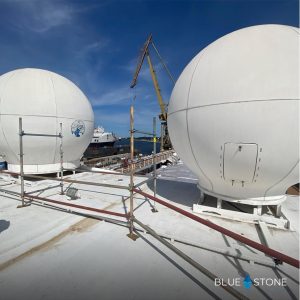 During the implementation phase (dry-dock) the project saw a significant increase of manpower, both for the shipyard and contractors. As deadlines were getting closer, coordination between shipyard and contractors started to be the main subject of the daily meetings. Good communication skills, close monitoring of all project aspects on both shipyard and contractor side, technical advice whenever requested and coordination support as necessary have been the keys to success.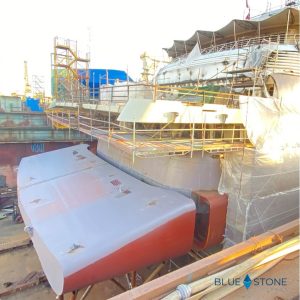 Critical path activities during the dry docking phase were:
Replacement of bulbous bow
AFT skeg installation
Hull and tank coating (Steel preparation grade Sa2.5)
New equipment and piping installation
Several retrofits aimed to increase energy efficiency (i.e. the installation of SCR and advanced wastewater treatment system)
Overall, the ICE class conversion and the overall upgrading required an excellent project organisation and the involvement of a high-skilled workforce in order to succeed.