The HVAC plant is a critical system to keep vessels healthy and comfortable. A special emphasis should be given to the air quality and sanitization and for that purpose, installation of the UV lamps proved to be efficient and effective.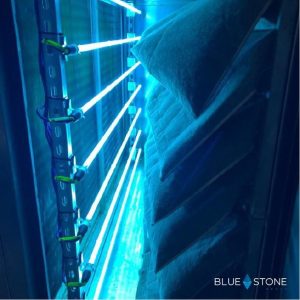 The UV lights system is designed for installation into HVAC units (AHU and FCU) for the purpose of surface and airborne disinfection using ultraviolet germicidal irradiation. The quantity and type of UV lights is determined by several factors such as the size of the unit coil, the volume of air processed per hour and other technical parameters. The position of each UV lamp inside the units is defined on the way to provide the maximum germicidal effectiveness, therefore installation should strictly adhere to the drawings and technical information provided by the Manufacturer and Designer.
There are two categories of HVAC units:
Air Handling Unit (AHU): unit consisting of electric motor, blower, heating/cooling elements, filter racks, sound attenuators, and dampers. The AHU is connected to the ductwork ventilation system that distributes the conditioned air through the ship areas.
Fan Coil Unit (FCU): unit that contains a heat exchanger (coil), a filter and a fan. As a part of the HVAC system the FCU assists the main air handling unit (AHU) to regulate the temperature of a specific room/area.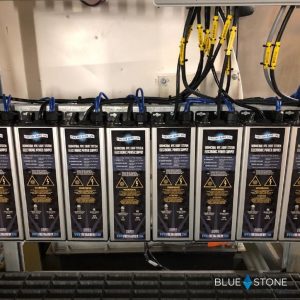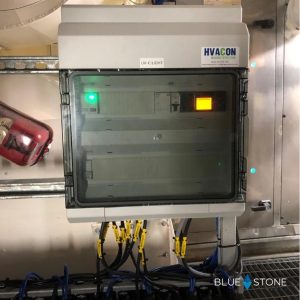 Bluestone performed the installation of UV lamps on 74 HVAC units (67 AHU and 7 of FCU) Installation included both mechanical and electrical works along with supply of supporting frames, electrical cables and consumables.
Details of the scope of work:
Supplying, fabrication and installation of UV lamps metal frames and supports according to design drawings and manual
Modification of existing AC units filter frames where required. Based on units layout, filter frames were modified or relocated closer to the air inlet providing more space for the UV lights installation.
Installation of UV lamps according to design and OEM guidelines (Owner supply)
Installation of lamps control panel, power supply units and premade lamp cables (Owner supply)
Supply and installation of electrical power and signal cables
Electrical connections according to electrical diagrams
Final test and start-up
After successful testing of each unit (AHU and FCU model), HVAC UV-C Lamps Installation / Unit Completion Certificate was issued (as a standard procedure) to ensure quality and proof of work. All the completion reports were uploaded onto Bluestone reporting website for ease of access to information.
Bluestone had deployed an experienced team which successfully completed installation works in 25 days.
Particular attention was given to safety during the functional test where required PPE was necessary along with UV protective goggles.